15 Sep 2022
Celebrating 10 Years of Women in BIM: Melbourne, Australia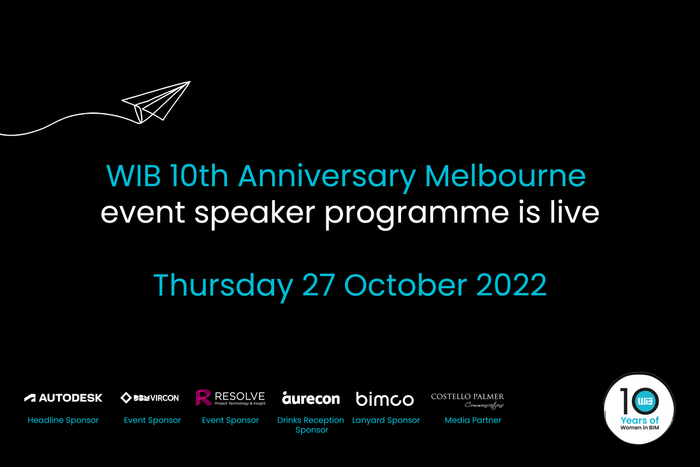 Celebrating 10 Years of Women in BIM: Melbourne, Australia
9am – 5pm, Thursday 27 October 2022
The Immigration Museum - 400 Flinders Street, Melbourne, Victoria
Join us in Melbourne to celebrate 10 years of Women in BIM!
The speaker programme is now LIVE for our 10th Anniversary Melbourne event!
This one-day event, which will be chaired by International Broadcast Journalist, Emily Rice, will see industry leaders gather in Australia for the sharing of digital innovation and transformation on global construction and infrastructure projects, and how the use of technology has irreversibly changed the way we design and build today.
Hear from a sterling line-up of influential speakers who will share their insights and experiences on people, projects and processes that are driving the digital future of the built environment.
Our sterling lineup of speakers will include representation from organisations such as Office of Projects Victoria, Autodesk, Cross River Rail, Spiire, Level Crossing Removal Project, Resolve Insight, DBM Vircon, IIMBE, WSP, Mott MacDonald, GHD & University of Melbourne and more!
This live, in-person event is a turning point for WIB. We are not only celebrating our 10th Anniversary, we are celebrating cultural, economic and sustainable change for our Members and the wider construction industry. Join us in Melbourne and engage with other BIM and digital champions who share a passion for our digital future.
Details around the speaker lineup and ticket purchases
CLICK HERE