26 Apr 2023
CEFC invests in construction and demolition recycling facility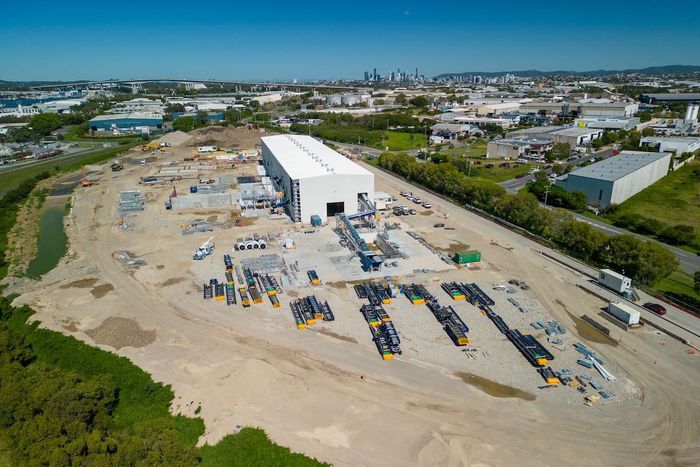 The Clean Energy Finance Corporation (CEFC) is committing $75 million in debt finance to develop a construction and demolition (C&D) recycling facility at Rino Recycling ahead of the Brisbane Olympics.
Operated by Rino Recycling and strategically located in Pinkenba, between the Brisbane CBD and Airport, the $89 million facility is expected to deliver 55,363tCO2-e of carbon abatement annually, equivalent to taking almost 12,000 cars off the road. With an approximate recovery rate of more than 90 per cent, it is set to produce higher quality recycled products for re-use.
CEFC CEO Ian Learmonth said the investment will help accelerate the nation's transition to a circular economy by deploying innovative technology to further develop the recycling sector.
"It offers an opportunity to deliver important infrastructure to Queensland and comes at a critical time for Brisbane, with the city on the cusp of a construction boom in the count down to the 2032 Olympics," he said.
The new integrated plant is reportedly going to be one of Australia's largest for throughput volume under one roof and will divert a significant amount of resources from landfill. It is expected to be able to process more than one million tonnes of C&D waste annually, including concrete, excavation material, vacuum waste and skip bin waste.
The CEFC investment is said to be the single largest to be made via its $100 million Australian Recycling Investment Fund.
Rino Recycling Director Todd Pepper said Brisbane's population is expected to continue to rise over the coming years, and there's significant construction requirements for the 2032 Brisbane Olympic Games.
"The city has a significant pipeline of infrastructure development, including expansion of the Brisbane Airport and the development of the Brisbane city region in the SEQ 'City deal'," said Pepper. "The potential for recycling building material in these construction projects is very large, and it's great to be working with the CEFC to help establish this plant and contribute to a more sustainable Olympics."
"The introduction of the landfill levy by the Queensland Government in 2019, and their commitment to almost double it by 2027, has enabled us to make this investment in this proven technology.
"This facility will not only help SEQ achieve its Olympics commitments but preserve a number of its finite resources by recycling existing materials in the system first."
The new facility will help improve the C&D recycling sector in Southeast Queensland, using global recycling technology by Turmec from Ireland and CDE from Northern Ireland.
Rino Recycling General Manager Daniel Blaser said the design philosophy behind the new facility is to deliver high recovery rates and create quality outputs as value-add products to the building, construction and manufacturing industries.
"What is unique about this plant is that it is fully automated and able to handle many and various waste streams through the plant efficiently, separating the products effectively and creating valuable outputs without the need to rehandle or reprocess," said Blaser. "The new integrated plant is one of Australia's largest for throughput volume under one roof, is the first of its type, and will help Brisbane create a more sustainable Olympics."
According to World Economic Forum's report, Shaping the Future of Construction: A Breakthrough in Mindset and Technology, May 2016, less than a third of all construction and demolition waste around the world is recovered and reused. Further, Australia's National Waste Report 2022, found 29 million tonnes of waste came from the C&D sector last year, amounting to 38 per cent of all waste generated in Australia.
CEFC Industrials Lead Mac Irvine said: "This project marks a significant development for Australia's circular economy and for recycling in Queensland."
"Output products like recycled aggregates, road bases and sands/soils can be used in place of virgin products to create opportunities for lower embodied carbon content in construction projects.
"As we look to deliver a net zero emissions economy by 2050, we need to cut emissions wherever they occur, from the way we build to the way we recycle.
"This facility demonstrates how to unlock the untapped value of what is considered 'waste' to deliver a more sustainable low-emissions built environment."
The Brisbane facility investment brings CEFC lifetime commitments across the waste and bioenergy sectors to more than $560 million.
Source: Inside Construction
---
Attend Sydney Build Expo, the largest construction, architecture and infrastructure show in Australia. Gain access to 9 conference stages and networking sessions, check out 400+ exhibitors, learn from 450+ high-profile speakers and connect with 20,000+ built environment professionals.