28 Aug 2023
Bruce Highway Upgrade Reaches Milestone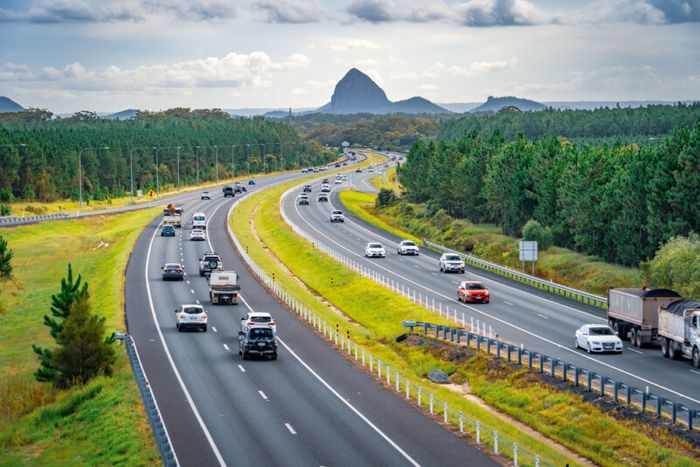 The Bruce Highway Upgrade, from Caboolture-Bribie Island Road to Steve Irwin Way, has reached a significant milestone, with major construction completed on three lanes, which are now open to north and southbound traffic.
The $662.5 million upgrade is jointly funded, with the Federal Government committing $530 million and the Queensland Government committing $132.5 million.
The entire 11km upgrade is expected to be completed in early 2024, weather and construction conditions permitting. An average of 664 direct jobs will be supported over the life of the project.
Three lanes of traffic are now open and flowing on the southbound section of the Bruce Highway between Caboolture-Bribie Island Road and Pumicestone Road, Elimbah.
This includes two new southbound bridges at King Johns Creek and Lagoon Creek, with both new bridges 1.5m higher than the old structures, significantly improving flood immunity.
With the northbound lanes also opening in July 2023, a temporary 100km/h speed limit is now in place both northbound and southbound on this section of the highway.
The speed limit will be permanently increased to 110km/h through this section once the whole upgrade project, up to Steve Irwin Way, is completed in early 2024.
Federal Minister for Infrastructure Catherine King, said that the Federal Government's investment is making a real difference to the safety, flood resilience and capacity of vital infrastructure.
"This upgrade project is part of the 15-year, $13 billion Bruce Highway Upgrade Program, which will transform travel between Brisbane and Cairns," Ms King said.
"Widening this stretch between Caboolture and Beerburrum will keep traffic flowing on Queensland's longest and busiest highway."
Queensland Minister for Transport and Main Roads, Mark Bailey, said that with major construction for the first of the two contracts now complete, motorists are enjoying the significant benefits the project is delivering, with three lanes of traffic moving smoothly in each direction along this key part of the Bruce Highway.
"This milestone follows another significant achievement for the Bruce Highway Upgrade Program recently, with completion of the Maroochydore Road and Mons Road Interchanges project in June 2023," Mr Bailey said.
"The Maroochydore Road and Mons Road Interchanges project has improved safety and efficiency and significantly increased capacity at the interchanges, keeping traffic flowing on the Bruce Highway."
Member for Morayfield, Mark Ryan, said that this is a fantastic milestone for a project that will deliver benefits to residents and communities in North Brisbane and the North Coast areas for generations.
"With a total of ten new bridges, including two new three-lane northbound bridges that are 1.5-metres higher at King Johns and Lagoon creeks, the highway will be more resilient during significant wet weather events," Mr Ryan said.
Member for Pumicestone, Ali King, said that some minor finalisation works will be completed over the coming weeks.
"The second contract is on track to finish in early 2024, following weather and construction industry impacts," Mr King said.
"We are transforming what was previously the most flood-prone stretch of highway between Brisbane and the Sunshine Coast."
Source: Infrastructure Magazine
---
Attend Sydney Build Expo, the largest construction, architecture and infrastructure show in Australia. Gain access to 10 conference stages and networking sessions, check out 400+ exhibitors, learn from 500+ high-profile speakers and connect with 35,000+ built environment professionals.