19 Jun 2023
Botany Rail Duplication Project Takes Shape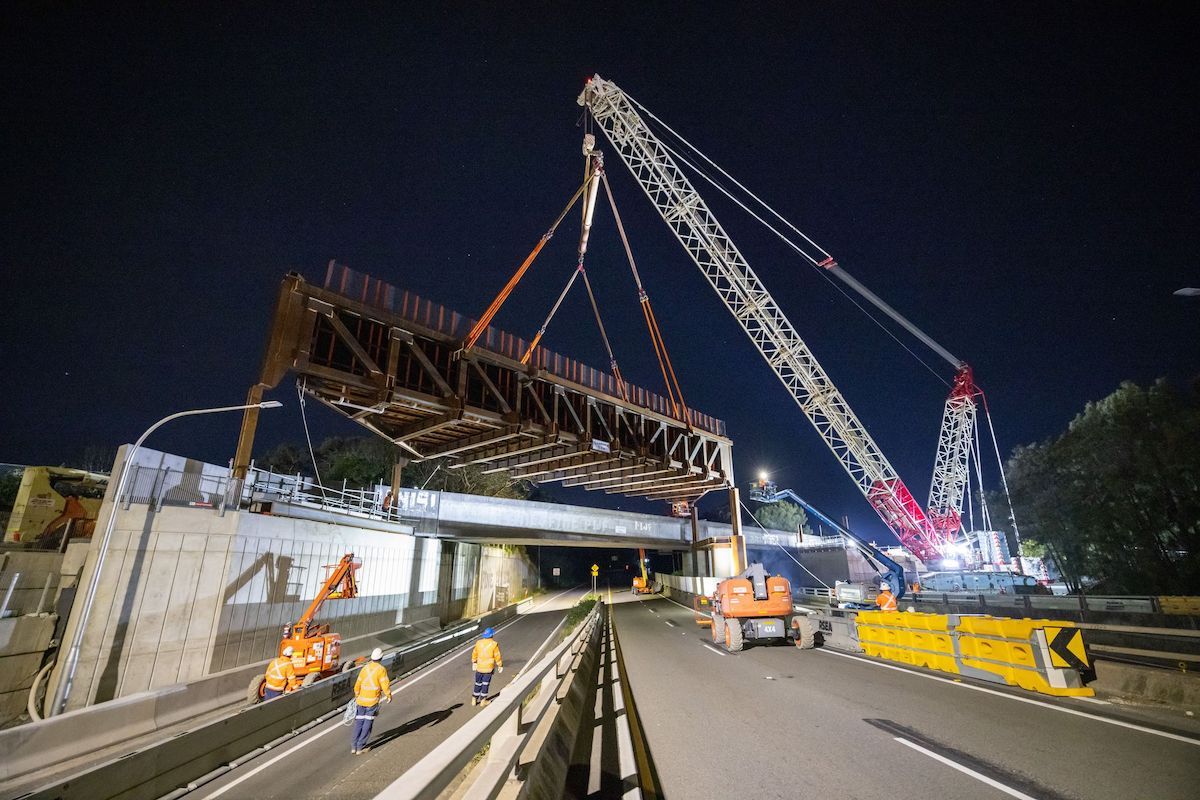 Works for the new Southern Cross Drive Bridge, part of the ongoing Botany Rail Duplication project in New South Wales, are well underway with the first of two temporary steel girders now installed.

The Australian Rail Track Corporation (ARTC) successfully lifted the first steel girder into place using a 600-tonne crane to allow for new concrete girders to be poured in situ, without closing the road below.
Each temporary girder spans 33 metres long and weighs 115 tonnes, with the second girder to be lifted into place later this month. The new bridge is set for completion in late 2023.
General Manager NSW Projects, Major Construction Projects, Julian Richards said the Southern Cross Drive Bridge is one of five bridges ARTC is constructing or modifying as part of the Botany Rail Duplication project.
"I'd like to thank the ARTC and contractor teams for their efforts, and for getting the work done as efficiently as possible, minimising disruptions to motorists," he added.
The Australian Government is fully funding ARTC to deliver the $400 million project, which aims to deliver better access to global export markets via Port Botany, improve freight supply chains across New South Wales and help reduce the number of trucks on local roads.
The project will increase freight capacity, said Richards, and also encourage more freight movements to be made by rail – helping to shift freight away from road transport and reduce truck movements and associated traffic congestion.
"Each extra freight train travelling on the Port Botany Rail Line will take up to 54 trucks off Sydney's roads and that will be well received by local road users," said Richards. "We thank motorists for their patience while bridge construction works take place."
The project will duplicate the remaining 2.9-kilometre section of single line track to Port Botany and construct a passing loop on the Southern Sydney Freight Line at Cabramatta to accommodate freight trains up to 1,300 metres in length.
Preparations are also underway for major works in August, when the existing O'Riordan Street Bridge will be demolished, and a new double-track concrete bridge constructed during a five-day rail shutdown.
Major construction works for the Botany Rail Duplication project are on track to be completed in 2024.
Source: Inside Construction
---
Attend Sydney Build Expo, the largest construction, architecture and infrastructure show in Australia. Gain access to 10 conference stages and networking sessions, check out 400+ exhibitors, learn from 500+ high-profile speakers and connect with 35,000+ built environment professionals.