21 Jun 2023
Bates Smart Designs Companion to Sydney's Chifley Tower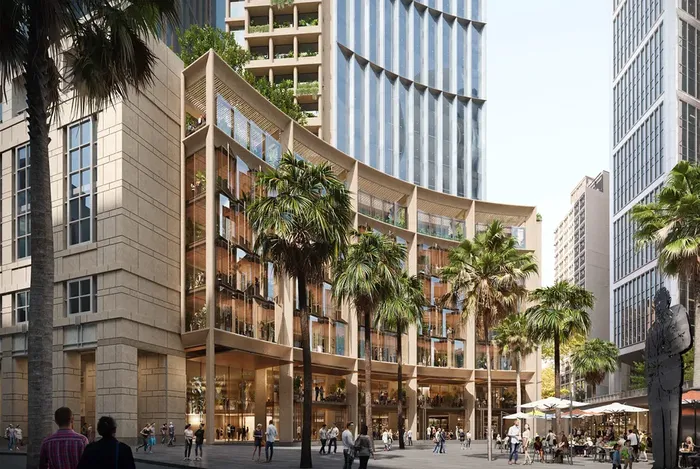 Bates Smart has designed a new commercial tower at Sydney's Chifley Square in the CBD.
The proposed building will be a companion to the existing Chifley tower, designed by Kohn Pedersen Fox and Travis Partners and built in 1992.
The project will create 50,000 square metres of office space, with a reimagined podium that connects to the surrounding public realm.
"Our design challenge is to create an urban ensemble with Chifley North that simultaneously complements and respects it, while being clearly of the 21st century in terms of people amenity and environmental performance," Bates Smart said in the development application for the project.
The existing podium will be partially demolished and refurbished to create more public spaces. An existing shopping mall will be replaced with a double-height arcade that connects Hunter and Bent Streets. An urban room will create a meeting place in the middle of the arcade.
"The new Chifley verandah creates a more open and inviting entry to the Chifley precinct. Its transparent and operable facade engages with the public space while its masonry frame is consistent with the existing podium."
Bates Smart won a design excellence competition for the project. Its scheme was unanimously chosen over rival proposals by Architectus and Kohn Pederson Fox, FJMT, Grimshaw, Koichi Takada and Tzannes.
The jury found the scheme "achieved the objectives and principles of the Brief with interesting and rigorous design thinking without directly mimicking the existing Chifley North tower."
"The scheme by Bates Smart was praised for balancing the objective for a sympathetic response to Chifley North with a modern interpretation of the existing building that results in a contemporary building for this iconic location in the Sydney skyline," said the jury.
"The scheme through its form and selection of materials achieves sophistication and sits harmoniously as an urban ensemble with Chifley North and in its context, whilst representing a modern building of its era. The scheme also achieves the important objectives of optimising activation to contribute to a vibrant public domain, including a welcoming through-site link which has the potential to energise the precinct."
"This development is set to re-energize the iconic Chifley precinct and contribute to the vibrancy of the Sydney CBD," said David Harrison, managing director and group CEO of Charter Hall, which owns the site. "Chifley South will deliver the highest standard for environmental and social sustainability, security, smart technology, and wellbeing."
Source: ArchitectureAU
---
Attend Sydney Build Expo, the largest construction, architecture and infrastructure show in Australia. Gain access to 10 conference stages and networking sessions, check out 400+ exhibitors, learn from 500+ high-profile speakers and connect with 35,000+ built environment professionals.