28 Nov 2022
Australia's Exhibition at the 2023 Venice Biennale is Unveiled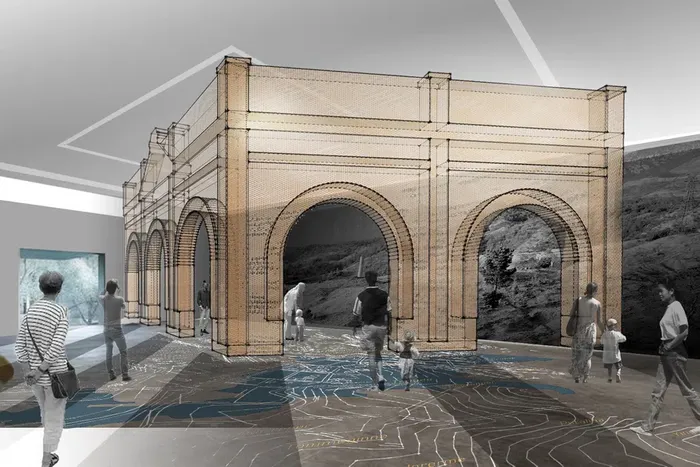 The design team for Australia's exhibition at the 2023 Venice Architecture Biennale has been revealed by the Australian Institute of Architects.
The Venice committee of the Institute chose Anthony Coupe, Julian Worrall, Ali Gumillya Baker, Emily Paech, and Sarah Rhodes for their idea "Unsettling Queenstown."
The exhibition proposal examines themes of decolonization and decarbonization together with regeneration and revitalisation in response to the Biennale's overarching subject, "Laboratory of the Future," chosen by curator Lesley Lokko.
The exhibition explores the post-colonial future of Queenstown in Tasmania as an example, which is representative of a settler town "based on resource extraction and labour exploitation."
A floating "ghost" from Tasmania's colonial past will be featured in an interactive experience at Australia's pavillion at the Giardini.
"Queenstowns are real places but their original names have been overwritten by the monarchy and colonialism," explained Anthony Coupe.
"They are resource driven places and in some places, the resources have run out," he continued.
"Particularly at the end of this second Elizabethan age, it's cast a whole spotlight on the monarchy and what it does and what the legacy is for Australia.
"The whole of Europe is based on the low labour rates of colonial outposts. These are the global issues that we like to think about. We also like to think about how they play out at a local level."
The four components of the exhibition will be centred on a "ethereal and uncanny" recreation of the colonial Empire Hotel in Queenstown's arched belvedere, which will hover above the floor of the Australian Pavilion and be constructed of woven mesh.
The creative team will also look for oral histories from members of First Nations tribes and locals of Queenstown whose voices will be heard through the Empire Hotel's ghost.
"We're very much interested in this area around temporality and narrative. So to some degree it's about understanding that past in a different way and rethinking its history so that there's possible different futures," Coupe said.
An abstract web of property boundaries, cadastral grids, and survey points will be overlaid on a layered map of Queenstown that has the city's streets, buildings, and mining infrastructure inscribed on the underlying landform with its topography, waterways, and vegetation. Aboriginal place names will be projected onto this ground layer.
In addition to a "open archive" of "exemplars and techniques from contemporary architectural practise, assembled in response to a call and response, gathered and interpreted by the Creative Directors," there will be projections of landscape photography of Country that show how it has changed over time.
Coupe explained, "What we're trying to do is invest ourselves and Australian architects in a conversation around what decolonisation might mean in architecture.
"Our callout, our survey of work is focused on tactics rather than exemplar projects. This is our 'laboratory of the future' to some degree. It's a conversation.
"We're calling out for projects that deal with ideas of incorporating First Nations knowledge, that provide listening and dialogue, that make spaces that are inclusive, that connect with time, memory and experience, and incorporate processes to enable change. As we do this we uncover what the tactics are and this can inform a framework."
---
Attend Sydney Build Expo, the largest construction, architecture and infrastructure show in Australia. Gain access to 9 conference stages and networking sessions, check out 400+ exhibitors, learn from 450+ high-profile speakers and connect with 20,000+ built environment professionals.