20 Oct 2021
Atlassian Wins Approval for $1 Billion Tech Central Tower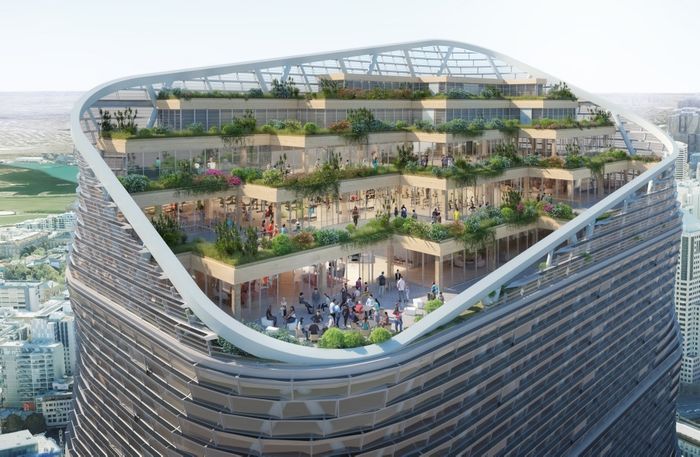 After receiving approval for its plans, Atlassian will proceed with plans to build a $1 billion-plus tower near to Central Station in Sydney.
Dexus will build the IT company's headquarters at 8-10 Lee Street, Haymarket in Sydney's tech centre zone, as part of a 39-story mixed-use tower.
The proposals by ShoP Architects and BVN feature a "expansive" lobby, shopping, and dining on the first floor, while the Railway Square YHA would be on levels one to six, and Atlassian's global headquarters would be on levels seven to 39.
This equalled to 58,683 sq m of office space, 7952 sq m of backpacker housing, 2579 sq m of lobby and retail space, and 492 sq m of underground floorspace.
Wellness facilities, meeting areas, lounge spaces, dining areas, and planted terraces would be located on the building's five topmost floors, which would be open to the elements.
The heritage railway parcels shed and YHA hostel were included in the lower floors, as well as a two-level pedestrian connecting zone that would later be passed back to Transport for NSW.
The 3764 sq m plot would connect the station to Toga and the Adina Hotel to the west, and Dexus-Frasers to the south, as well as public transportation.
The Sydney-based software firm, which has ties to Airbnb, Cisco, ebay, Toyota, Redfin, NASA, and Kaiser Permanente, first revealed the ambitions in June 2020 and filed the development application six months later.
Dexus committed $1.4 billion in capital, development, and investment in the corporate headquarters in Sydney's tech core sector throughout that time.
According to the application, the tower's design would achieve good sustainability outcomes for climatic management and mass timber use.
"The design intent of the exterior façade materiality is based on a lighter palette scheme that contrasts with the saturated colour scheme of natural materials at the interior of the building, including mass timber and landscape areas," the application said.
"The outer façade is composed of staggered light grey aluminium panels supported by a steel structure that wrap around the exoskeleton columns in between steel mega floors."
The project's ambition included establishing 24-hour activation, including the area's history, and improving the public realm for walkers, all while constructing an innovative, long-term anchor development for the precinct.