29 Jul 2022
Aqualand Heads Transformation of Future North Sydney Lifestyle Precinct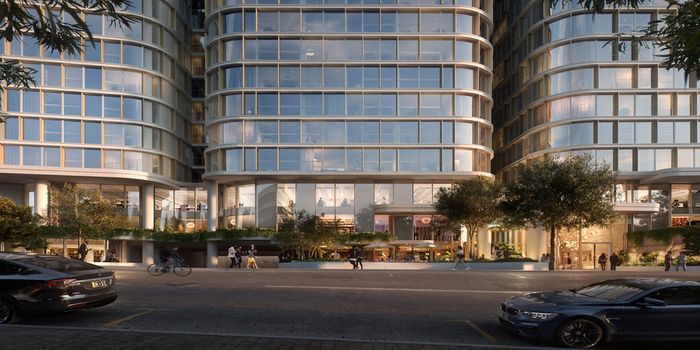 As AURA by Aqualand construction project moves forwards, the real estate development company is helping to contribute to North Sydney's quick transition into one of the harbour city's most coveted new residential lifestyle areas.
Award-winning architects Woods Bagot and Richards Stanisich created the $1 billion mixed-use residential property at 168 Walker Street, which includes 386 luxurious apartments above a sizable retail area.
The project is now under development; the six-level subterranean carpark is presently visible, and practical completion is anticipated for mid-2024.
Given its proximity to North Sydney Council's Ward Street Precinct concept at the northern end of the CBD, AURA by Aqualand is perfectly situated to help revive the North Sydney CBD as a premium residential destination.
Miller, McLaren, Walker, and Berry Streets make up the Ward Street Precinct. It is proposed to replace the Council-managed Ward Street parking lot with new activated plazas and a civic centre with social and cultural amenities within the podium of a new commercial skyscraper on Berry Street.
This will make the North Sydney CBD a more lively and alluring location by attracting the locals, students, and visitors as well as supporting activities after work hours.
A network of activated lanes that connect Miller Street to two new plazas and Ward Street to the recently named Faith Bandler Place are crucial to realising the vision for the future precinct. These lanes complete the north-south laneway network that runs from St. Leonards Park to the North Sydney train station.
The architecture of AURA by Aqualand, according to Andrew Cooper, Project Director at Aqualand, reflects the town center's pedestrian-friendly laneway and café culture, which fosters connectivity.
"At AURA by Aqualand, our design takes into account the natural walkability of North Sydney by extending the pedestrian desire lines from the Ward Street Precinct through the site, directly contributing to the future civic and green spine outlined in North Sydney Council's urban place strategy," explained Mr Cooper.
"This will see a network of new laneways running between North Sydney's buildings, creating enticing pockets filled with lively cafés, bars and walking trails that add to the evolving cultural ecosystem of the area.
"Importantly, this pedestrian link will run from Lavender Bay, adjacent to our BLUE at Lavender Bay project, all the way through North Sydney and alongside the AURA by Aqualand site, so we're excited to be supporting this future through our developments.
"As government and commercial investment unfolds in the coming years, with 19 key projects in the area and the addition of more than 17,000sqm of new parks and plazas, it represents a new era for North Sydney, and we're very fortunate that AURA by Aqualand is poised to play such a key role."