12 Oct 2022
Approval Granted for $1bn All-Electric Office Tower in Melbourne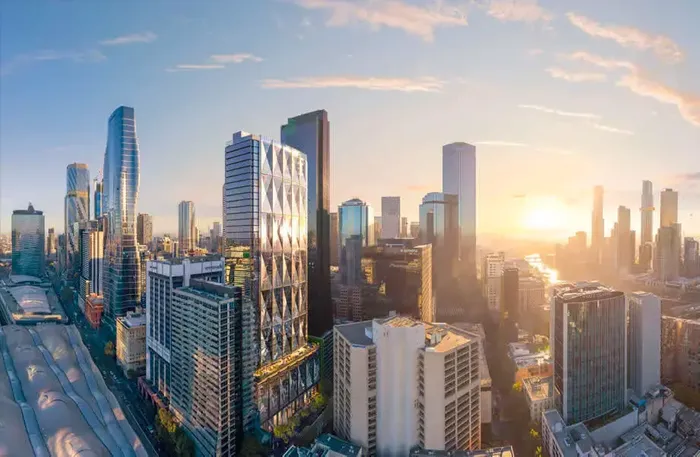 The Victorian government has given the global investment giant Hines permission to construct its $1 billion office tower in the heart of Melbourne.
Hines will construct the 180-meter, 60,000-square-meter 600 Collins office tower as a significant vote of confidence in the sector's post-pandemic prospects.
It denotes a rapid completion date for a large project. Early in August, Hines filed the tower's plans. On-site work is anticipated to start in December, with a 2026 completion date set for the first half.
The all-electric skyscraper aims to achieve a Platinum WELL Certification for shell and core and a minimum 6-star Green Star Green Building Council rating.
The tower will be among Australia's most environmentally friendly and energy-efficient buildings, according to Hines managing director Simon Nasa.
"This approval from DELWP in collaboration with the City of Melbourne validates our shared confidence in the continued strength of Melbourne CBD as a global city and home to Australia's best businesses," Nasa said.
At the height of the epidemic in late 2020, Hines purchased the 2400 sq m land from developer Landream. The site had been intended to house the nation's first Mandarin Oriental hotel, built by Zaha Hadid. Currently, a four-story office and retail structure occupies the space.
The wealthy US investment firm paid $200 million for the rectangular site in the centre of Melbourne's business district, which has been approved for an existing residential and hotel project and more than 70m of frontage on Collins Street.
"When we acquired the site in the height of Covid, we had the opportunity to define how the office could bring together the best elements of how people live, work, and play while outperforming the market in sustainability," Nasa said.
"The building will be a destination shaped by experience, amenities, and our tenants partnering with us to create spaces that attract and retain the best talent.
"600 Collins is setting the standard for how developments in Australia can be both environmentally responsible and cutting edge."
A number of iconic structures built by Investa, Mirvac, and Cbus Property already line Collins Street's midtown area.
Local fund manager Charter Hall has made progress on 555 Collins Street, a $1.5 billion office building that is already pre-leased to high-profile tenants including Amazon and Aware Super, on the same block's other side of the street. GIC, the national wealth fund of Singapore, acquired a 50% share in the project earlier this week.
The first new commercial tower to be planned on Collins Street since the pandemic, Hines' authorised biophilic office project by architects WilkinsonEyre and Architectus will be able to adapt to the changing demands of a workforce that is equipped with digital tools.
Additionally, it will feature podium terraces, experiential end-of-trip amenities like a hotel-style reception lounge, showers, lockers, bike parking, wellness centres, collaborative work zones, and designated green spaces. These amenities will include both casual and formal food and beverage options that have been carefully chosen.
Additionally, there will be conferencing areas, outdoor areas, and rooftop terraces.
A new laneway will make Francis Street, the little road that runs north of Collins Street parallel to it, a public thoroughfare.
The ambitions Hines has for Collins Street are the outcome of a strategy that was put into motion more than five years ago, when the company sold a $650 million portfolio of four office skyscrapers in Sydney, Melbourne, and Brisbane and shifted its emphasis to development.
The privately held business, which oversees $122 billion in assets internationally, has more than 198 projects in various stages of development.
One of five projects it is now working on in the Asia Pacific region is the Collins Street development.
Its construction projects in Australia include a 10-story, 5000 square metre boutique office building in Richmond and a $200 million timber office tower at 36-52 Wellington Street in Collingwood.
Without purchasing offsets, the developer with an emphasis on sustainability aims to achieve global carbon neutrality by 2040.
By electrifying fossil fuel-based systems within its buildings, utilising circular systems principles to reduce energy waste and increase system efficiency, and pursuing onsite and off-site renewables that support the development of renewable energy sources, Hines announced plans to work to reduce carbon throughout its portfolio in June.
The group is presently finalising arrangements with outside partners to give information so that it can monitor the reduction of emissions and the amount of energy used.