16 Aug 2021
Ancestral Bird Inspires Indigenous Cultural Centre in Darwin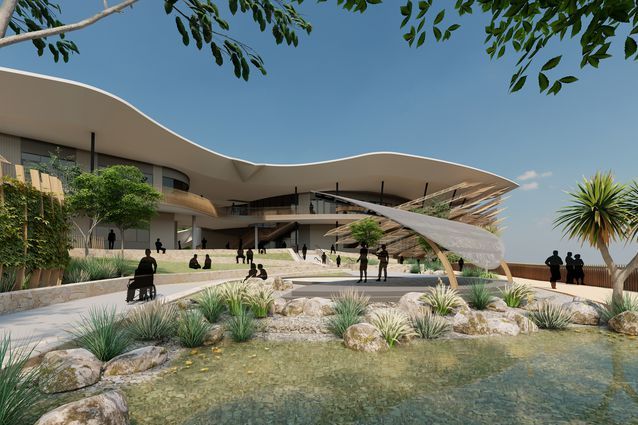 The design for Darwin's Larrakia Cultural Centre has been unveiled by local Northern Territory firms Rossi Architects and Susan Dugdale and Associates.
According to the architects, the structure's shape would resemble an ancestral bird swooping over the land, guarding the Country and its people.
"A bird-shaped roof hovers over the site with generous eaves providing deep shade," they said in a statement. "Feather-like screens protect the walls and glazing from the harsh tropical sun while creating interesting shadow pattern and allowing natural breezes to flow through."
From an aerial perspective, a solar array will contribute to the avian form by generating a feathery texture.
The centre will be situated on the Stokes Hill Wharf waterfront, close to a sacred location of the Larrakia people, Darwin's traditional proprietors. The Larrakia Development Corporation's long-held goal is to build a place that will highlight Larrakia culture and history while also allowing Larrakia people to continue caring for the land and sea.
An exhibition room with interactive exhibits and relics repatriated from museums across the country and the world will be at its heart. The center will house a museum and an art gallery, as well as classrooms for language and culture education for both the Larrakia and the general public. A specialist Larrakia restaurant, retail spaces, and leasable office space will also be available.
The structure will be divided into two wings, with a central double-height breezeway increasing the connection between the sacred place and the sea.
The crucial landscape design incorporates Larrakia Country's three main ecosystem types: monsoon rainforest and waterfall, savannah, and coastal. Each habitat will feature educational play areas, as well as mist sprays, salt and freshwater ponds, and a cascade for added cooling and natural water for cultural maintenance and ceremonial.
The centre's architects, Rossi Architects and Susan Dugdale and Associates, were announced in February. They're collaborating with the Larrakia Working Group, which includes Mark Motlop, Bill Risk, June Mills, Helen Secretary, Kelvin Costello, Chrissy Jenner, Joe Raymond, and Nadine Lee, as well as members of the Larrakia community. Larrakia artists will be involved as well, and their art and designs will become part of the building's and landscape's fabric.
The functional brief for the centre was established by GHD with collaboration from the GHD Woodhead architectural team.
The precise design had passed the 30% completion milestone, according to Larrakia Development Corporation, and it should be completed in the second half of the year.