21 Jul 2022
Aland Lodges Development Plan to Transform Campbelltown Site With Mixed-use Precinct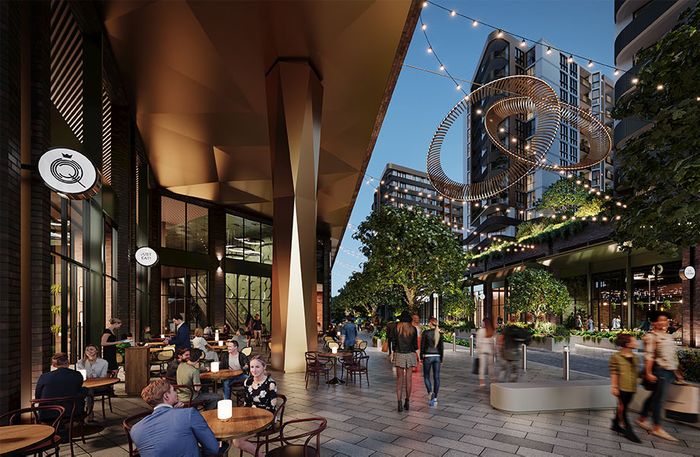 According to a development application, a run-down and underutilised site at 22-32 Queen Street in Campbelltown would be transformed into a bustling new $400 million neighbourhood, creating an exciting new gateway sector for the city.
A colourful, tree-lined "Eat Street" will be the project's focal point, coupled with a new destination district spread across two hectares on Queen Street that will include a mix of residential flats, retail, and commercial spaces.
ALAND, a Sydney developer, has been working on the proposal it has submitted to Campbelltown City Council for six years. According to Andrew Stacey, senior development manager at ALAND, the plans promise to reimagine the presently dilapidated and underutilised site as a new gateway to Campbelltown's city centre.
"For several years this has been an ugly and underutilised site – but now we have an opportunity to unlock this incredible space for the entire community to create not only a residential precinct but public spaces for everyone to enjoy," says Stacey.
The Campbelltown property will have 558 residential apartments along with a variety of community amenities and eateries spread across five buildings with a height range of 12 to 15 stories, thanks to a collaboration with Sketch Design Group.
A sizable public domain is proposed to complement the historic site and offer the locals a welcoming and safe place to enjoy themselves while also preserving the setting of the adjacent landmark structure, Warby Barn.
To promote walking and support local businesses, the tallest structures will be situated closest to the train station.
Approximately 35% of the overall site is given over to community areas, with 7000 square metres of that area devoted to a sizable open plaza on the podium level of the construction.
In the extensive landscaping concept, which also includes the transformation of each apartment building rooftop into a lush, green environment for tenants to enjoy, landscape architect Sturt Nobel sought to add a number of indigenous and deciduous trees and plants.
The ALAND complex is home to a number of additional resident-only amenities, such as a shared co-working area, a gym, a multifunctional event room, and health and wellness areas.
The award-winning Bottlebrush in Schofield Gardens and the award-finalist Costello in Edmondson Park are just two of ALAND's notable projects in Western Sydney, where they are committed to enhancing the city's satellite CBDs.
The Hoxton in Liverpool and the recently opened The Gladstone Village in Merrylands are two further significant projects.
According to Ryan Lane, Head of Development at ALAND, community and council feedback has been crucial in determining how the project would be able to satisfy future housing demand while also enhancing the quality of life for the people of greater Campbelltown.
"This particular site is an exceptional location that demands a high-quality approach to really lift the tone of this part of Campbelltown and introduce new life and excitement for the community."
"We know from our comprehensive research surveying local businesses and residents, that people want a place that feels like a real community hub with things like a local grocer, quality take-away and outdoor dining options as well as public art and open spaces with wide footpaths and seating," Lane said.
As a direct result of discussions with Council, earlier designs of the development have been reduced to create more usable open space.
As a high-frequency bus route, the precinct is also close to Macarthur Square and Campbelltown's centre, with the train station only a 10-minute walk away. Campbelltown Performing Arts High School is a neighbour of the precinct.