28 Apr 2021
Acciona Approved to Build $1.96B MacIntyre Wind Farm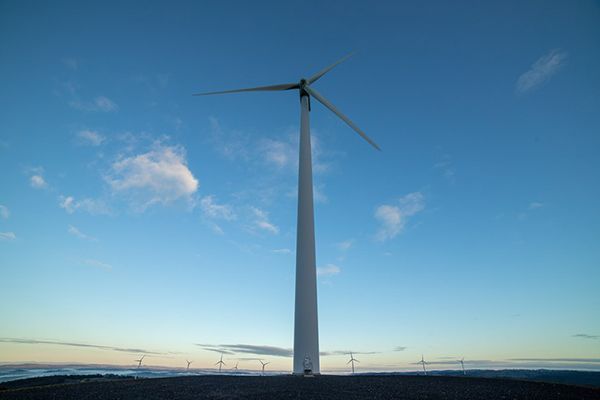 The Queensland Government has approved Acciona's development of the $1.96 billion MacIntyre Wind Farm Precinct, which will employ up to 400 people during construction.
Construction at Cement Mills, about 40 kilometers south-west of Warwick, has been approved by the State Assessment and Referral Agency.
The 162 turbine MacIntyre project, the smaller 18 turbine Karara project, and a 64-kilometer overhead transmission line to the Powerlink network near Millmerran are all part of the precinct's approved construction.
"The MacIntyre Wind Farm Precinct is set to provide up to 400 local jobs during construction, with an additional 240 jobs for the construction of the 64 km transmission line, and 14 fulltime jobs once in operation," Miles said.
"Acciona also expects its local spend during construction to exceed $500 million, which is great news for the Southern Downs, Goondiwindi, and Toowoomba communities."
Minister for Energy, Renewables, and Hydrogen, Mick de Brenni, said the project would create jobs in Queensland.
"This will deliver significant economic benefits for the Darling Downs and beyond, and more renewable megawatts as the state works to reach its 50 per cent renewable energy target by 2030," de Brenni said.
"The commitment to a 50 per cent renewable energy target by 2030 has already enabled more than $9.9 billion of investment since December 2016 and created 7000 construction jobs."
CleanCo Queensland, a government-owned energy generator, will own and run the 103-megawatt Karara Wind Farm, which is part of the MacIntyre Wind Farm Precinct, according to de Brenni.
"This will be a central energy generator for CleanCo and will significantly bolster its portfolio of low-emission energy assets – owned by Queensland, for Queensland."
The MacIntyre Wind Farm will also sell CleanCo 400 megawatts of renewable energy assets per year.
The approval, according to CleanCo CEO Maia Schweizer, is a major move forward for the project.
"CleanCo is proud to be partnering with Acciona to deliver such a significant project in Queensland's renewable energy landscape," Schweizer said.
"With this project we are harnessing wind with a profile that perfectly complements solar energy – that allows us to provide reliable, affordable low-emissions energy to our large commercial and industrial customers using our unique portfolio and is an important step toward unlocking Queensland's potential to generate and use globally competitive clean energy."
Brett Wickham, Acciona's Australian Managing Director for Energy, said the 36,000-hectare MacIntyre windfarm is the company's largest wind farm to date.
"We are excited to be moving forward with this project and are proud to support the Queensland Government's decarbonisation strategy," Wickham said.
"The precinct will avoid the emission of nearly 3 million tonnes of carbon dioxide each year."
The MacIntyre Wind Farm Precinct is expected to begin construction in the second half of this year and be fully operational by 2024, according to Acciona.
Website: Inside Construction