27 Jun 2019
A sight to behold as Sydney's first tram in 60 years passes through George Street.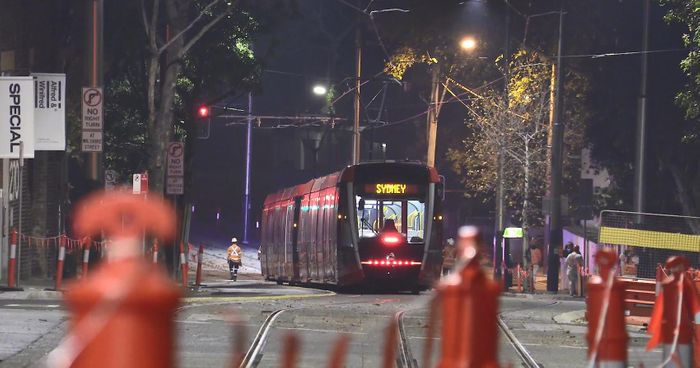 Monday night marked a significant milestone for the City of Sydney after a tram from the Sydney Light rail project made its way down Sydney's central business district.
Accompanied by a convoy of construction workers equipped with high visibility jackets and cruising police cars, the Alstrom-designed Citadis X05 tram passed by Sydney Town Hall in the early hours of Tuesday morning as the light rail sought to conduct tests for its new service in the city's centre. Taking into consideration the numerous delays and cost overruns the light rail project has experienced with its original deadline scheduled for March of this year, Transport and Roads Minister Andrew Constance took the opportunity to applaud the project team, stating that it was "a fantastic milestone" to achieve.
"We got it to Town Hall and what a relief after all the construction we have seen," said Mr Constance. "It's a big sign that we're not far off now."
Passenger service aboard the tram is scheduled to begin taking place by early December with the first leg of the line situated between Circular Quay and Randwick. The second stage of expansion on the light rail will soon follow suit, with a line between Randwick to Kingsford being opened a couple months later in Spring of next year.
This news comes in light of the Berejiklian Government reaching a $576 million settlement between the Spanish construction contractor and the consortium delivering the project. The two parties had been looked into a feud over allegations that the government had not succinctly informed contractors that it had not sufficiently devised how to manage many of the crucial power cables in the Melbourne city area when contracts were agreed upon. Subsequent rerouting of said cables are largely to blame for some of the delays pertaining to the light rail projects completion. However, $130 million of the entire settlement figures will only made to ALTRAC if its successful in meeting its newly proposed deadlines. Additionally, a $400 million class action from retailers hindered by the continued construction of the light rail line looms over the NSW Supreme court.
Tram tests are scheduled to continue across the Sydney Area, most notable in areas such as Surry Hills, Randwick, Moore Park, Chalmers Street and Central Station as the light rail prepares its services for the paying public.
"Driver training is also continuing to ramp up as we get closer to being ready for passenger services." Mr Constance exclaimed.
The trams are scheduled to remain housed at Lilyfield light rail heavy maintenance depot where they will be kept in working order. Construction of the Lilyfield depot which took advantage of the former Rozelle rail yards has already been completed. As of now, 1105 metres of track have been successfully laid across the area to service up to six trams at a time for maintenance. The 60 tram fleet will eventually be housed entirely within the Randwick Stabling Yard overnight, with 36 trams already residing in the yard right now.
Upon completion, the $2.1 billion dollar Sydney CBD and South East Light Rail project will grow to comprise of 19 stops extending from Circular Quay to Anzac Parade across a 12 kilometre route.
Interested in Sydney Road and Transport? Why not check out our upcoming Sydney Roads and Transport Expo. Register for your free tickets here!