17 Jun 2022
$658m Sydney Children's Hospital Redevelopment Set to Begin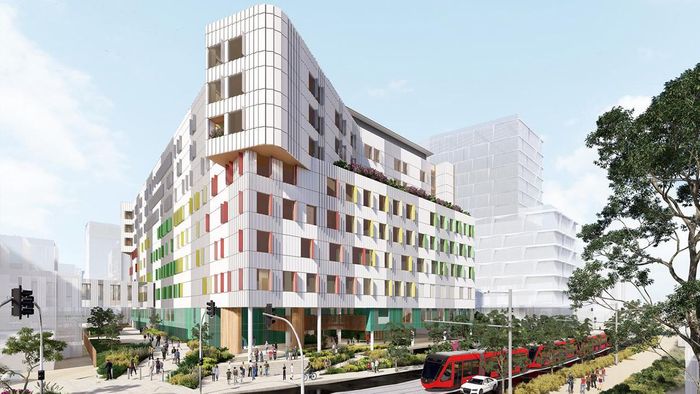 Stage one of the $658 million expansion of Sydney Children's Hospital and Children's Comprehensive Cancer Centre in Randwick is about to start.
The renovated paediatric hospital, designed by Billard Leece Partnership, will provide specialised care for some of the state's sickest children. The hospital's initial concept drawings, which will be built within the Randwick Health and Innovation Precinct, were revealed in May 2021. The design development portion of the project has now been completed by BLP.
The new hospital's design, according to managing director Tara Veldman, is meant to feel like a "home away from home" for healing children.
"We know the recovery process is intrinsically linked to minimizing a child's stress and anxiety," Veldman explained. "It is designed as a holistic place of healing, for children, their families, carers, hospital and research staff while seamlessly incorporating the latest technology."
Clinicians, researchers, children, families, and caregivers collaborated on the design. To accelerate learning discoveries, connect clinical innovation with bedside care, and fulfil the complex health requirements of children, it takes a "bench to bedside" approach — a term used to characterise the co-location of paediatric healthcare, education, and research environments.
"By co-locating patients and technical amenities, there are shorter lead times for cancer testing, resulting in better health outcomes," the architect explained. The Sydney Children's Hospital is Australia's first health facility to use this method of patient management and treatment.
The architects responded to the brief with "head and heart," according to Veldman, in order to create an atmosphere of inclusion and uplift. Natural light, tactile and visual interaction with green places are incorporated into the design, while nature-filled communal spaces and a public plaza have been developed to encourage well-being and "positive distraction."
The NSW government announced the second phase of the project on June 10th, appointing John Holland as the major works contractor.
The present Sydney Children's Hospital will continue to serve outpatient and allied health services while building is underway.
The plant is slated to open in late 2025, with the main works to begin in the coming months.