09 Aug 2022
61-Storey Elegant Vertical Tower Proposed for Parramatta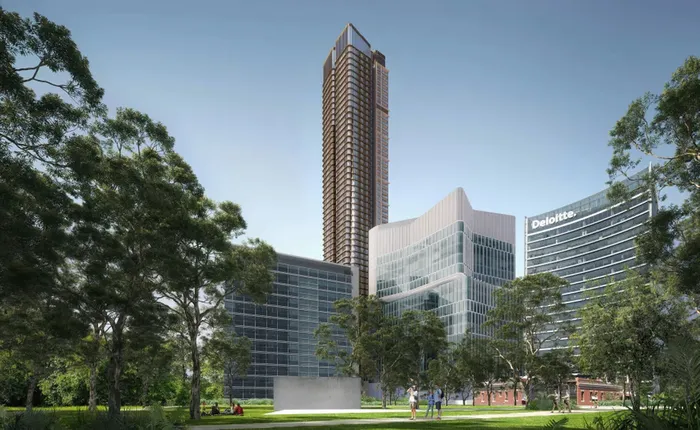 Inspired by the region's Indigenous history, PTW Architects designed a 61-story skyscraper for Parramatta in Western Sydney.
The 61-story mixed-use project, which is located at 12 Hassall Street, has five levels of basement parking for cars, a four-story platform with commercial space and residential amenities, and a residential tower with 391 build-to-rent apartments from levels five to 59.
"In contrast to most neighbouring buildings, this tower is intended to be both tall and narrow, contributing an elegant vertical tower to the city precinct," the architect said in the design report.
"Its materiality reflects the natural tones of Parramatta's rich Indigenous history and flora. It is intended to contrast with predominantly glazed/white buildings in the Parramatta CBD."
The firm won a competition for design excellence for the project, and the architectural concept for the tower was inspired by kangaroo grass, eel traps, and scar trees. The jury said that the plan "had a strong indigenous concept that was well executed."
The lower podium levels, according to PTW Architects, have been planned to maximise street activation and promote pedestrian activity.
"The tower form is articulated into four quadrants with deep central indentations on all facades," the report read. "The south facade consists of a strong weave like cladding with a vertical emphasis and an ochre colour scheme. The north facade is characterized by dominant horizontal elements, a uniform colour palette and a subtle transition from base to apex."
Flexible private dining rooms would be available as resident amenities in the podium floors, while a pool and entertainment areas would be available on the rooftop.
The 2,050-square-meter land was purchased by the developer last year for an estimated $70 million. The developer anticipates an additional 900,000 persons for Western Sydney during the next 20 years, necessitating the investment in more residential properties, according to the urban design report.
If realised, the building's end value is projected to be $450 million.