04 Jan 2022
$300 Million Built-to-Rent Project Begins Construction in St Kilda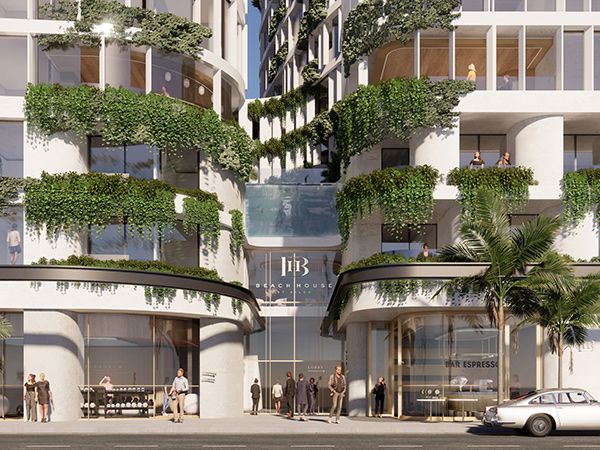 The GQ merger between GURNER and Qualitas' has unveiled its third build-to-rent project, Beach House, in St Kilda.
The project is expected to cost $300 million and will have 300 units spread across two towers with 12 and 28 storeys, respectively. The building's design language, created by Warren and Mahoney, is inspired by the surrounding coastal nature.
The original permit has been revised to allow GQ to give residents with a gym, indoor play areas, day spa facilities, a 14-person cinema room, rooftop bar, private dining rooms, and other world-class amenities. Beach House will provide 1,563sqm of net lettable area across business and retail areas in addition to the residential amenity.
Despite being GQ's third BTR project, it will be the first to start construction, with Crema Construction starting work this week. When finished, the iconic site will provide unobstructed views of Melbourne's CBD, Albert Park Lake, and St Kilda's beachfront.
St Kilda, according to GQ, is an excellent BTR market, with a large number of young, wealthy renters looking for a level of residential product, amenity, and service not currently accessible on the market. Tim Gurner, the developer's founder, said the company is pleased to be delivering a significant project in a promising location.
"We are thrilled to be able to announce the acquisition of such an iconic site for our platform, as we continue to bring together the best in-market opportunities with genuine points of difference – a key element our brand has focused on since its inception," he says.
"Our build-to-rent platform is primarily focused on impeccable design and environmental standards – this St Kilda precinct will lead the way in that regard."
Mark Fischer, the Global Head of Real Estate at Qualitas, shared Gurner's comments.
"The third acquisition for the platform provides us with the critical mass to become a significant player in the build-to-rent sector, a very short time after its launch. This gives us a significant base from which to build, as we continue to deploy our committed fund capital into attractive off-market opportunities," he says.
"We identified the Beach House site as a stand-out for build-to-rent some 18 months ago, and we are excited that construction has now commenced. With Crema Constructions appointed to deliver this high-quality project, its focus on sustainability standards will ensure we are delivering an enduring asset for our investors."
Nick Deans, Principal Architect at Warren and Mahoney, says the firm tried to develop a structure that reflects St Kilda's urban and coastal setting.
"Inspired by the sea, and created with the build-to-rent market in mind, Beach House's design is both elegant and informal, and visually represents a nod to the shoreline suburb of St Kilda. Its base structure presents a textural, warm, sandstone-inspired podium of elegant, curved forms, which is complemented by residential towers bearing a light, glazed aesthetic reaching into the sky.
"The tower's form and façade detailing are designed to create elegant and fluid forms that change according to perspective and time of day. The towers will respond to changing light and perspectives to provide a range of subtle changes in the project's form.
"Beach House will provide its residents a lifestyle of seaside oasis alongside luxury hotel amenities, including a porte-cochère entrance, extensive health and wellness facilities, pet amenities, and a rooftop bar that faces Fitzroy Street and the ocean."