22 Sep 2021
23-Storey Tower Proposed for Sydney's Crows Nest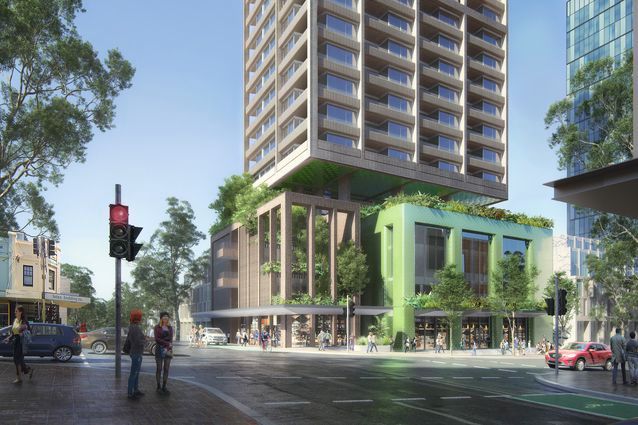 In Sydney's Crows Nest, Woods Bagot has created a concept design for a 23-story tower at 378-390 Pacific Highway.
The tower would be built next to the three-tower over-station development at Crows Nest Metro, which is also being designed by Woods Bagot as part of the Crows Nest Design Consortium and is now under construction.
On a site with a current building limit of 16 metres, a planning request submitted to North Sydney Council seeks clearance for a building envelope of 180 metres high.
There are currently two to three-story commercial and retail buildings on the site.
A four-story commercial podium wraps around the Pacific Highway and Hume Street frontage, "activating and celebrating the corner," according to Woods Bagot's concept design.
According to a planning report made by Urbis, the back of the podium will consist of a series of cascading landscaped terraces with a constructed shape that "suitably transitions to the western residential neighbours and provides for visual interest, reducing the perceived visual bulk."
"Cantilevering the commercial podium is a tall slender residential tower form of 19 storeys, creating two clearly distinguishable building languages that express their internal land uses.
"Set between the commercial podium and the residential tower is one storey dedicated to residential amenities, supported by a potential 'lifestyle' commercial tenant, providing a combination of internal and external areas that exudes a high-quality architectural outcome."
The development would include substantial landscaping within the tall vertical proportions of the podium to deliver a "leafy green character that spills out onto the street and breaks down the building composition."
The tower would include 104 apartments. There will be no parking in the plans, and residents will be expected to use the nearby metro station, which is set to open in 2024. The planning proposal can be found here.